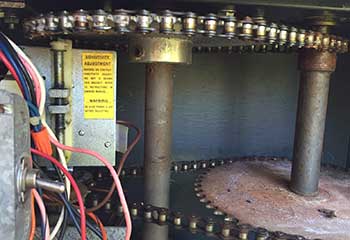 Garage Door Opener Repair
Customer Issue: The chain and cable assembly of this customer's door opener were broken.
Our Solution: As soon as we arrived, we fully inspected the garage door and each of the components. Very quickly, we determined that broken chain and cable assembly were the problems. We made sure we had the replacement parts we needed, took down the opener, installed brand new components and reinstalled the opener. Last but not least, we adjusted the travel limits and carried out maintenance before leaving.
Garage Door Off Track
Customer Issue: Mr. Keith's door went off track because of the misaligned tracks.
Our Solution: Luckily for Mr. Keith, there was no real damage to his garage door system so we were able to use the existing components to make his door fully functioning again. We made sure to properly align the tracks before we tightened the bolts. Once we put the door back on tracks and lubricated the moving parts, all that was left was to make some fine adjustments and the door returned to its usual self!
Frederick Keith
- Hawthorne
Garage Door Opener Replacement
Customer Issue: Our customer's existing door opener had become too noisy and was known to behave like it had a mind of its own.
Our Solution: Once we inspected the garage door system and talked to Ms. Petersen, we were able to offer her several options that were compatible with her door. She chose a model and let us do our job. From there on out, it was a straightforward job: we took down the existing unit and installed the new one in the blink of an eye. As soon as we were done adjusting the system, we showed Ms. Petersen how everything worked.